HOME>
About KOBE SANDA HOTEL
Our brand concept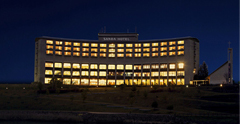 Nestled in nature among the hills of Kobe and Osaka, the KOBE SANDA HOTEL's majestic curve will stun and impress you. Relax in our comfy rooms and treat yourself right, in our spectacular restaurants and banquet halls. Head down the corridor to our wedding chapel for a once-in-a-lifetime moment and priceless memories. Meanwhile, the brightness and laughter in our main lounge connects community with people. Spend the night with us at the Sanda, you may never want to leave.
The specifics
Number of Rooms
Check-in
Check-out
Extra bed
Crib
Breakfast
Evening meal
Car park
130
15:00-
-11:00
¥6,000
¥2,000
From
¥1,836
From
¥3,218
Parking for 100 vehicles (free for guests)
Credit cards
Floor layout
4F-6F
Accommodation facilities
3F
Hana, Hoshi, Tsuki and Yuki banquet halls, Keyaki Shinto shrine, photo studio
2F
Shunpanrou Japanese restaurant,Sanda Teppanyaki: Tsukasa,
Trescena buffet restaurant,dressing rooms, beauty salon
1F
Reception, Finestra lounge, bridal salon,
wedding chapel (with its own garden), florist
Convenient in comfort
Experience ideal location
The Sanda is all about ideals: yours. From a round of business golf, to a leisurely spot of sightseeing, the Sanda elevates your freedom with undiscovered potential.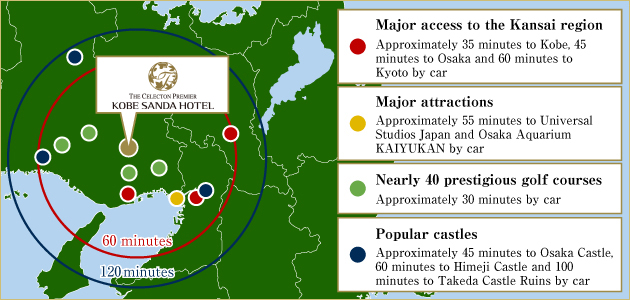 Major Kansai airports
Osaka International Airport (Itami): Approx. 30 minutes by car
Kobe Airport Terminal: Approx. 60 minutes by car
Kansai International Airport: Approx. 90 minutes by car
Major attractions
Kobe Sanda Premium Outlet stores: Approx. 15 minutes by car
Universal Studios Japan: Approx. 55 minutes by car
Osaka Aquarium KAIYUKAN: Approx. 55 minutes by car
Golf courses
Nearly 40 prestigious golf courses
all within 30 minutes by car
Major cities in the Kansai region
Kobe: Approx. 35 minutes by car
Osaka: Approx. 45 minutes by car
Kyoto: Approx: 60 minutes by car
Popular castles
Osaka Castle: Approx. 45 minutes by car
Himeji Castle: Approx. 60 minutes by car
Takeda Castle Ruins: Approx. 100 minutes by car
Services

:Available (free)  

:Available (additional fee)  -:Not available
Business center
Photocopying
Fax
Email
Massage services
Parcel delivery
Concierge service
-
-
(1)
-
Morning paper
Evening paper
Vending machines
Ice machines
Room service
Wakeup call
Laundry services
(2)
(2)
-
(3)
Self-service laundry
Wi-Fi
-
1  19:00-23:00, appointment required
2  One on each guest floor
3  Next day laundry service is available everyday. Please deposit your laundry by 18:00, and we will have it ready by 10:00 the following day.