Spectacular occasions and lasting memories
We've wrapped elegant modern living into four distinct banquet halls, called Hana (flower), Hoshi (star), Tsuki (moon) and Yuki (snow): versatile and ideal for anything from private club events to large-scale company receptions, and intimate parties to formal social occasions.
Hana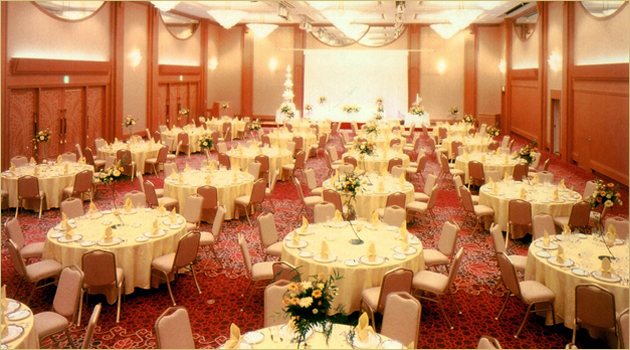 Hana banquet hall
High, vaulted ceilings offer spaciousness in this spectacular banquet hall. Hana completes any party with elegant crystal chandelier and a richly colored interior. The added bonus of an open foyer with panoramic views over Sanda makes for a truly refined experience. The hall's sliding partition walls enable flexibility and adaptability to suit a wide range of parties.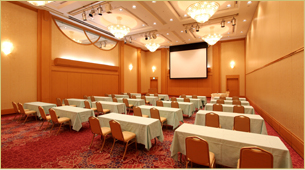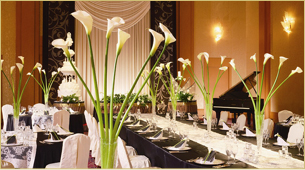 Hoshi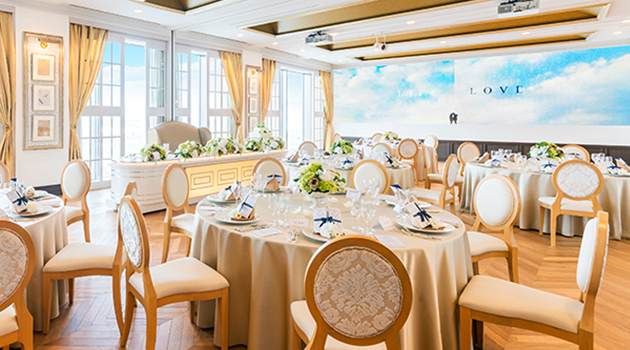 Hoshi banquet hall
Hoshi is a distinctive banquet hall with a spectacular interior and flooring. Its jewelry box concept design enchants all by creating a lasting impression through windows looking out over Sanda's beautiful natural surroundings. Hoshi is available for weddings and a wide range of other functions, including formal dinners or concerto luncheons.
Tsuki and Yuki banquet halls
Tsuki and Yuki are more compact banquet halls that are ideal for smaller events such as meal briefings or meetings.
Party menus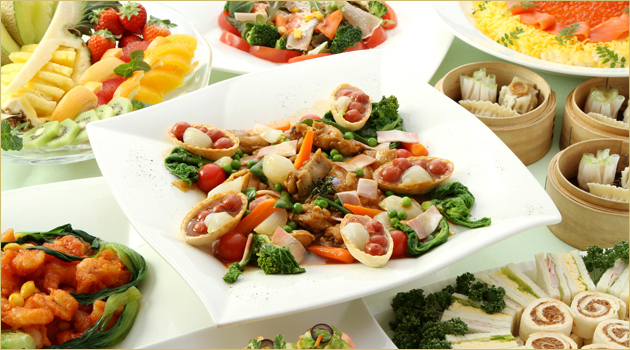 Standing Buffet/Sit down buffet
Our colorful buffet menu can accommodate up to 500 guests for a standing event, guaranteeing a highly entertaining party.
Our table buffet menu features a wide range of appetizing dishes served on ornate plates, making it ideal for a more familiar party with friends.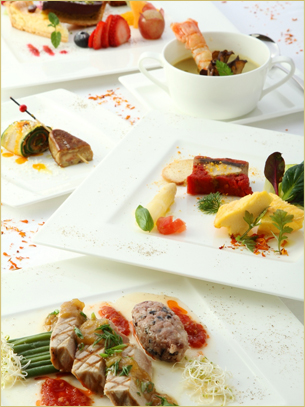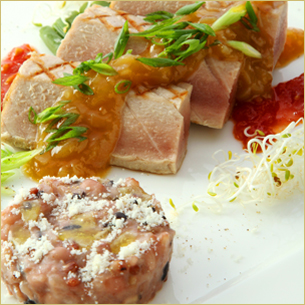 Options
Our buffets serve the sole purpose of comfort dining in freedom. We warmly welcome guests to choose their favorites; fit to a wide range of occasions. Whether formal parties or receptions, social gatherings, thank you parties or farewells, the thrill is serving you. Our tables are laid out in vibrancy, sparing no expense or detail.
Details
Name
Area
(m²)
Area
(tsubo)
Ceiling
height
(m)
Capacity
Reception
Seated
Standing
School
Theater
Hana
Full
size
600
181
6.0
340
380
500
400
650
2/3
400
121
6.0
240
250
300
230
350
1/2
300
90
6.0
170
180
200
160
250
1/3
200
60
6.0
90
100
120
100
180
Hoshi
Full
size
160
48
3.0
60
80
80
85
100
1/2
80
24
3.0
-
40
40
40
50
Tsuki
44
13
2.6
-
20
30
-
-
Yuki
35
10
2.6
-
10
-
-
-
Charges
Name
Venue hire charge
Meal (2 hours)
Meeting (2 hours)
Exhibition (8 hours)
Hana
Full
size
¥78,000
¥378,000
¥1,500,000
2/3
¥52,000
¥252,000
¥1,000,000
1/2
¥39,000
¥189,000
¥750,000
1/3
¥26,000
¥126,000
¥500,000
Hoshi
Full
size
¥22,000
¥100,000
¥400,000
1/2
¥11,000
¥50,000
¥200,000
Tsuki
¥6,000
¥27,000
¥110,000
Yuki
¥5,000
¥22,000
¥87,000